All guild meetings and workshops are held by Zoom unless stated otherwise. Email Carolyn Boice (her email is in the Membership list) with any questions or to sign up for workshops.
Guild meetings run from 10am to approximately 11am. Presentations (if any) follow immediately and generally run from 11-ish to 12-ish. Lunch and programs follow from approximately 12:30 – 3:30pm. Any special meetings (Board, Quilt Show, etc) are from 9am – 10am. Any changes for a particular workshop or meeting will be noted in the calendar for that event.
Guild Meetings are held at:
Grace Community Church
160 Seremma Ct.
Lake Katrine, NY 12449
Treats
All members are asked to bring a snack to the monthly meeting. The Hospitality schedule for the year is according to the first letter of your last name (as follows):
September: R,S,T October: U,V,W,X November: Y,C,D January: A,B,Z
February: E,F,R March: G,H April: J,K,L May: M,N,O June: P,Q,I
Click on the date for more information:
Pam Hadfield aka Mama P Quilts "All Around the Neighborhood" Zoom Presentation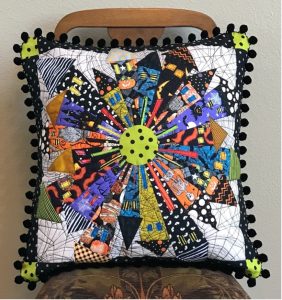 Zoom presentation and trunk show followed by a half-day workshop "All Around the Neighborhood", a modern take on the Dresden to design a fun circular row of houses.  You can design your neighborhood like she did using all those leftover halloween scraps or you can pick a Christmas or Easter theme.  You can even pick you favorite theme of fabrics to match your house.  The possibilities are endless.