Anything for Sale? Please email wiltwyckquilters@wiltwyckquilters.org
---
7/11/2019
You may remember that some months ago I had beaucoup stacks o' fabric to share, now I have a Bernina I'd like to sell.
Everything is either unused or as new, and I recently had it serviced at S&S in Poughkeepsie. I'd like $3000. for it.
It's a Bernina 640 Artista with the:
original print and CD-ROM manuals
standard-issue feet and accessories
(feet: 1C, 3C, 20C, 2A, 4, 5, 12C, 37D, 57, bobbins, assorted needles)
free-motion foot
1/4-inch foot
walking foot
zipper foot
felting/punch tool
stitch regulator
original accessory case
padded storage/carrying case
extension table
I can meet the buyer in the parking lot of the church where the meetings are held since that's probably the most convenient place to meet.
Best regards,
Melanie Hulse
(845) 253-0317
---
6/4/2019
For Sale: From Gloria F.
Sewing machine $100.00. Originally purchase in 2003 $699.00
Contact Gloria.
Quilting4me@hvc.rr.com
845-626-7984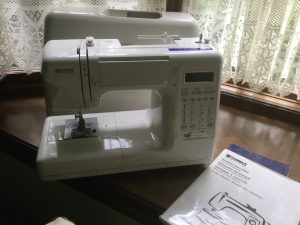 3/8/2019
Please contact Marie Girard to take this gorgeous quilting frame if you are interested. Her contact info is in the book or member's only section.
I'm looking for some advice.
About 2 years ago Grace expressed an interest in a hand quilting rack (I don't even know if that is the correct name). Of course I made her one and gave it to her for the next holiday event. The trouble is that she has never touched it and now admits that she doesn't really know what to do with it and it just stresses her out to think about it. I offered to "get rid of it" and she was thankful. But no one on Craigslist nibbled and the flyer she posted in the local quilt shop hasn't gotten any interest either. I'm at the point where I am happy to give it away.
I don't know why the above photo keeps loading on it's side. Hopefully you can bend your head to the left.
The 3 horizontal bars are 55″ wide, between the ends. The rack is adjustable for height and angle. It can be used sitting or standing.
If you know any person or group that could use this rack, I would appreciate you forwarding this email to them. For any friend of yours, I would happily disassemble and deliver it as well as re-assemble it at their site. I just don't want to see this wind up in a landfill.
SaveSave
SaveSave
SaveSave