Anything for Sale? Please email wiltwyckquilters@wiltwyckquilters.org
For Sale: Vintage Quilt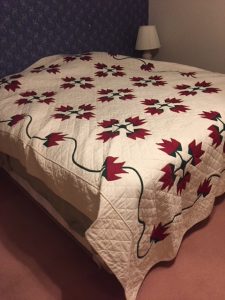 Vintage quilt is hand appliqued and hand quilted.
Quilt measures 85X112. Excellent condition, smoke free home.
The quilt has had only one owner since the maker passed away.
Asking price: $400.
E-mail inquiries only: sewfabrictastic@yahoo.com
---
For Sale – like new, most dies never used. Please call Katharina 845 866 4362 and let's make a deal!
Prices are listed as on Accuquilt Website, excluding occasional sales.I saw 20% discount at the Mancuso Show in Oaks, PA. These prices are just a guide line for a conversation.
Accuquilt Go$299.99 handcrank
Dies: Die #
Tumbler 6 ½" 55020 $39.99
Half Square Triangle 4" 55031 $39.99
Circles 2,3,5" 55012 $39.99
Hexagon 2,3,5" 55011 $34.99
4 " quarter Square 55316 $34.99
2/1/2 " Strip Cutter 55017 $79.99
12" finished, Log Cabin 55349 $99.99
10×24 Cutting Mat 55113 $29.99
10×10 Cutting Mat 55111