Anything for Sale? Please email wiltwyckquilters@wiltwyckquilters.org
Wanted:
Looking for scrap patriotic fabrics. Approximately 12″ square. (Rough cut) Nothing larger. This is to make an Honor Flight quilt for a veteran going to Washington, DC. Each veteran receives a quilt for his/her own when they return from their flight. Just know that it is going to a good cause. Check your stash. Gloria Frenza 845-626-7984
---
For Sale:
Singer Sewing machine – Model 5040C with hard carrying case.
Includes manual. Great working condition. Some yellow discolor on parts of white. This would make a good spare machine or a starter sewing machine for a grandchild looking to learn how to sew. $70.00. Gloria Frenza. (845) 626-7984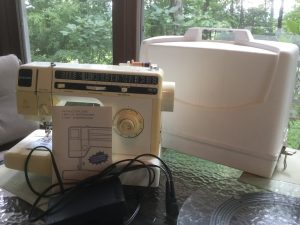 ---
Free to Good Home: Quilt Hoops and Frame

My Mom was a big time quilter in the Delhi area. She passed away this May and I had donated most of her quilting supplies, cloth and quilting books to the local Delhi NY Quilting guild. I still have the standing hoops, I found them later in the basement as I was clearing out the house.
The big one is about 36″ tall with a 23″ diameter hoop. The smaller one is about 24″ tall, and 16-18″ in diameter.
I just did not want to trash them since they looked good. I also have two other wood quilt frames that I don't know how they were used, all straight pieces about 3-4 feet long, all inter-connected.
I don't need any money for them if they are useful to you. My Mom would want them to be used by somebody.
I also have a 36″ weaving loom to donate as well, very old, used by my grandmother to make place mats etc. I have shuttlecocks, spools, etc.
845-339-4629
best wishes, John F.
---
BabyLock Eilure Plus
160 Built-in Stitches
Takes e-cards
Can get flash card to download patterns off the internet
Includes hoops for embroidery
Never Used
Contact: Janice Whispell (845) 633-1853
$1600
Pfaff 2054
From: Elizabeth Butterfield <ecaprotti@hvc.rr.com>
My name Elizabeth Butterfield. I have Pfaff 2054 that has no miles on it. I've had it for about 5 years and it was to sophisticated for my simple needs. New it was over $2,000 and I am looking to get a fair price for it. I am reaching out to quilting groups in my area who may know someone looking for a fine quilting machine. If so please contact me at: ecaprotti@hvc.rr.com Thank you
SaveSave
SaveSave