The Wiltwyck Quilters Guild is a non-profit organization. The purpose of this organization shall be to preserve the tradition and the history of quilt making, as well as to foster awareness of and to be receptive to creative innovation in the art, to promote and sponsor interest and appreciation in all areas of quilt making among our members and the general public; and to promulgate friendship and the exchange of ideas. Article II of the by-laws.
---
It is Early Membership Renewal Time
Current members can renew by the September 16th meeting and be entered into a drawing for a free year of membership. Here is the early renewal forms: Early Membership Renewal Form
If you are not a current member you will need to fill out the complete membership application available here: Membership Application
---
Upcoming Events Around The Area (check our page of all events for all other months)
July 2017
Heritage Arts and Crafts Show and Sale
July 22, 2017
Saturday, 9-5
Lasell Hall
268 Main Street
Schoharie, NY 12157
For information: See their Facebook page here
August 2017
Piecemakers of Cairo Annual Quilt Show
August 12, 2017
Saturday, 10-4
New Location:
Freehold Firehouse Community Center
9502 Route 32
Freehold, NY
For more information: Debra 518-622-2270
Admission: $3.00
Patchworkers Quilt Show
August 12-13, 2017
Saturday, 10-4
Sunday, 11-3
Windham/Ashland/Jewett Central School
Main Street
Windham, NY
Admission: $3.00
Arlene Merker's One-Woman Show
August 26-27, 2017
Both days, 9-5
Plainville Camp Grounds Association
320 Camp Street
Plainville, CT 06062
Contact: 845-594-4421
September 2017
24th Annual Bennington Quiltfest
September 16-17, 2017
Saturday, 9-5
Sunday, 9-4
Mount Anthony Union Middle School
747 East Road
Bennington, VT
Featured Quilter: Michelle Renee Hiatt
www.benningtonquiltfest.com
Quilts Along the Delaware
Delaware County Town and Country Quilters
September 16-17, 2017
Saturday & Sunday, 10-4
Delaware County Historical Association
Route 10
Delhi, NY
3 miles north of Delhi
for info: 607-746-3849
Special Event
Quilts by Invitation from the Sunday Piecemakers of Trout Creek, NY
Admission: $4.00
Catskill Flora
Quilts by Patricia Clark
September 16 – November 4, 2017
The Erpf Gallery
Catskill Center
53355 Rt. 28
Arkville, NY
catskillcenter.org
845-286-2611
Meet the Artist Reception
Saturday, September 23, 2017, 2-4 pm
The Hudson Valley Modern Quilt Guild Presents: Amy Friend
Workshop
September 23, 2017
Saturday, 10 – 5
Poughkeepsie Senior Center
14 Abe's Way
Poughkeepsie, NY
Fee: $50 Members, $60 Non-Members
If you are ready to take a creative risk, this is the workshop for you.
Attached is the registration form. At this time (July 11th) there are a few openings left and there will be a wait-list created.
Amy Friend Registration
The Hudson Valley Modern Quilt Guild Presents: Amy Friend
Lecture and Trunk Show
September 24, 2017
Sunday, 1pm
Poughkeepsie Senior Center
14 Abe's Way
Poughkeepsie, NY
All are welcome. Amy promised to bring along lots of quilts for us to see.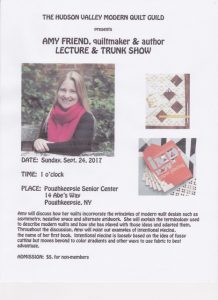 XI Annual Quilt Show, Treadle to Technology
Presented by: Champlain Valley Quilters' Guild NY
September 30 – October 1, 2017
Saturday, 10-5
Sunday, 10-4
SUNY Plattsburgh Fieldhouse
167 Rugar Street
Plattsburgh, NY 12901
List of vendors: Meet Our Vendors