The Wiltwyck Quilters Guild is a non-profit organization. The purpose of this organization shall be to preserve the tradition and the history of quilt making, as well as to foster awareness of and to be receptive to creative innovation in the art, to promote and sponsor interest and appreciation in all areas of quilt making among our members and the general public; and to promulgate friendship and the exchange of ideas. Article II of the by-laws.
---

Registration is now Open. Here are the links to the forms.
Wiltwyck Quilters' Guild Quilt Show
Rondout Valley Intermediate School
October 6 & 7, 2018
Saturday 10 – 5
Sunday 11 – 4
Guild Boutique
Raffle Quilt and Prizes
Dream Baskets
SAQA Trunk Show
2018 Raffle Quilt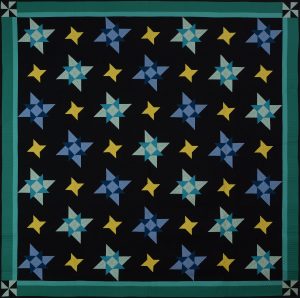 ---
2018 Wiltwyck Quilt Show Challenge
The summer of 2019 will be the 50 year celebration of the Woodstock Festival. In honor of this milestone, the challenge for the 2018 quilt show will be "Celebrating 50 Years of Woodstock."
Participants will create a quilt (three layers) or a quilt top that celebrates or commemorates something about the Woodstock Festival or something about Woodstock itself.
The entry can be any shape, but the perimeter should not exceed 80." There are no limitations regarding fabric color or type. Please do not replicate the festival logo using the guitar and bird. Entries using the guitar and bird logo cannot be accepted.
Embellishments are allowed as long as they do not extend more than 1″ beyond the surface of the piece. No glitter will be allowed.
If there are enough finished quilts entered to create a show, after the guild show they will be offered to various venues to be displayed during the anniversary year of 2019.
Finished quilts should have a 2″ minimum sleeve attached to the back for hanging. A quilt top does not need a hanger.
The entry should have the maker's name, phone number, and email or address included on the back.
All entries will be due at the April 2018 meeting. Voting will occur at the May meeting.
Any questions should be directed to Cheryl Kosarek, ckosarek@aol.com or 845-657-6783.
SaveSave
SaveSave
SaveSave
SaveSave
SaveSave
SaveSave
SaveSave
SaveSaveSaveSave
SaveSave