SAT MAY 20, 2023 – MJ Kinman — Lecture: Gems & Joy: The diamond quilts of MJ Kinman —
Carolyn Boice had the chance to talk with MJ Kinman about the trunk show and special class she's going to present to the Wiltwyck Quilters Guild. Check it out!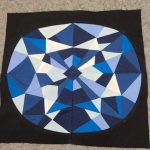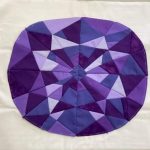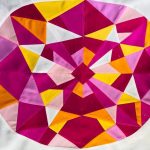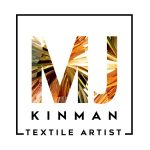 The most beautiful gemstone captures light and reflects it back to us with unique brilliance, revealing its fiery personality. These are the divas and the drama queens of the gem world. Every one of them has a story to tell…just like people. This slide lecture and trunk show chronicle her story – My 20-year adventure in learning how to create the biggest diamonds in the world in cloth.
www.mjkinman.com
Workshop: The Hope Diamond and Evelyn Walsh McLean with MJ Kinman — The 18" pattern, inspired by the legendary Hope Diamond, is perfect for the confident beginner. I describe the technique they will learn as traditional piecing using freezer paper as a template. If students can put two pieces of fabric together with a quarter-inch seam allowance, they'll be able to successfully finish this large block. Workshop cost is $30 for members and $35 for non-members.