Guild Meetings are held at:
Grace Community Church
160 Seremma Ct.
Lake Katrine, NY 12449
Community service sewing is held at the
Grace Community Church
160 Seremma Ct.
Lake Katrine, NY 12449
on the Monday AFTER the regular meeting.
9 AM – Noon
No meetings in December
Treats
All members are asked to bring a snack to the monthly meeting. The Hospitality schedule for the year is according to the first letter of your last name (as follows):
September: R,S,T October: U,V,W,X November: Y,C,D January: A,B,Z
February: E,F,R March: G,H April: J,K,L May: M,N,O June: P,Q,I
Click on the date for more information:
In-House Workshops
We will have a wonderful array of workshops available from which to choose, as well as the opportunity to come work on our own unfinished projects. There is no charge for any of the classes but there may be class size and space limits and some pre-class preparation and information.
If you have not yet signed up for the class you can do so in January or by calling Linda Armour (she's in the book or in the Members Only section).  Supply Lists will be available in January.
Here are the list of classes and teachers:
Te Pabon:  Cathedral Window by machine
Sharon Levenway:  Machine Trapunto
Pictures to come soon.
Mary McLaughlin:  Denim Jean Vest
Supply list:  Scissors, Seam Ripper, Denim Thread, Ruler, Pins, Sewing Machine.
Bring an old pair of denim jeans:  GENTLY remove rear pockets and bring them with you.  Gently open up the inner leg seams.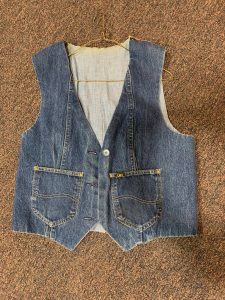 Linda Armour:  Upcycling T-Shirts
Gail Carl:  16-Patch Chop (variation of the Disappearing 16-Patch)
Pictures coming soon
Sharon (Sam) Conlon:  Jelly Roll Stripping