September 16, 2023
12:30 pm EST- 3:30 pm EST
IN PERSON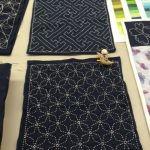 Workshop: Sashiko workshop with Jacqui Clarkson (kit required)
Jacqui will work hand and hand with everyone on learning Sashiko. This class is designed for both the beginner and those who have done it before and would like a little challenge. There are 2 different kits available, one for the beginner that comes with pre-printed fabric (pattern can vary depending on availability) and the advanced that comes with fabric and tracing paper where we will create our own patterns to stitch. Both kits supply you with white thread, sashiko needles and a thimble.

To register email: tiggerturtle313@msn.com
Payment method:
After registration is confirmed, mail check made payable to "Wiltwyck Quilters Guild" to:
Carolyn Boice PO Box 117; Tillson, NY 12486
Registration must be made by July 10, 2023!
Cost
Members: $15 (plus kit $25 paid to instructor day of workshop) total $40
Non-members: $20 (plus kit $25 paid to instructor day of workshop) total $45