Guild Meetings are held at:
Grace Community Church
160 Seremma Ct.
Lake Katrine, NY 12449
Community service sewing is held at the
Grace Community Church
160 Seremma Ct.
Lake Katrine, NY 12449
on the Wednesday AFTER the regular meeting.
9 AM – Noon
No meetings in December
Treats
All members are asked to bring a snack to the monthly meeting. The Hospitality schedule for the year is according to the first letter of your last name (as follows):
September: R,S,T October: U,V,W,X November: Y,C,D January: A,B,Z
February: E,F,R March: G,H April: J,K,L May: M,N,O June: P,Q,I
Click on the date for more information:
Millefiori Quilts with Arlene Delloro
The La Passacaglia, a quilt by Willyne Hammerstein, is featured on the cover of Millefiore Quilts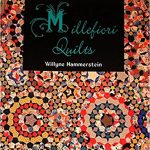 . This complex-looking quilt has become an internet sensation, but its real beauty lies in the fact that it can be made using different techniques. The most common technique used is English paper piecing, but the quilt can also be pieced using a simple running stitch. In this workshop you will learn how to piece La Pass using templates and a running stitch. In order to accomplish this, you will first learn how to prepare the templates; how to hand piece perfect y seams; and how to fussy cut, should you desire, to produce one large rosette suitable for making a wall hanging or a pillow. A quick demonstration of how to use Linda Franz's Inklingo system of printing shapes on fabric to piece the La Pass will also be included.
There are still a few openings - please contact Te to get on the list.
SaveSave