Guild Meetings are held at:
Grace Community Church
160 Seremma Ct.
Lake Katrine, NY 12449
Community service sewing is held at the
Grace Community Church
160 Seremma Ct.
Lake Katrine, NY 12449
on the Monday AFTER the regular meeting.
9 AM – Noon
No meetings in December
Treats
All members are asked to bring a snack to the monthly meeting. The Hospitality schedule for the year is according to the first letter of your last name (as follows):
September: R,S,T October: U,V,W,X November: Y,C,D January: A,B,Z
February: E,F,R March: G,H April: J,K,L May: M,N,O June: P,Q,I
Click on the date for more information:
Jackie Kunkel Geese in Flight Workshop
Geese in Flight paper pieced placemats.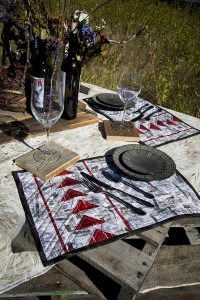 Sign-up for Jackie Kunkel workshops can be made by email or phone for those who want to get a head start on prepping for one or both classes in October.
​Call or email Linda Armour (she's in the membership booklet or in the Members Only area of the website).  If space is available in the workshop (only 6 left in Geese in Flight, only 10 left in Proud Mary), you will be signed up and then will need to send a check (made out to Wiltwyck Quilters Guild) to Linda.  ​
If you are purchasing the pattern and charm element pack for the Geese in Flight workshop with Jackie Kunkel in October, please note that the correct charm element pack is #2, NOT #1 as it states in the supply list. Jackie is going to correct that.