Guild Meetings are held at:
Grace Community Church
160 Seremma Ct.
Lake Katrine, NY 12449
Community service sewing is held at the
Grace Community Church
160 Seremma Ct.
Lake Katrine, NY 12449
on the Wednesday AFTER the regular meeting.
9 AM – Noon
No meetings in December
Treats
All members are asked to bring a snack to the monthly meeting. The Hospitality schedule for the year is according to the first letter of your last name (as follows):
September: R,S,T October: U,V,W,X November: Y,C,D January: A,B,Z
February: E,F,R March: G,H April: J,K,L May: M,N,O June: P,Q,I
Click on the date for more information:
In-House Workshops
February In-House Workshops: 
More info, sign-ups and samples will be available at the January meeting.
1. "Walker Pockets Simplified"- Sam Conlon will teach an easier version of walker pockets they are good for disabled people and that the guild gives to nursing homes. Home décor fabric works especially well, but cotton is fine.
2. "Casserole Carrier" – Betty Verhoeven will show us how to make a square carrier that has a stable bottom and dowels for handles.
3. "Triangular Bowl" – Erika Assimus will teach how to sew this 3-sided bowl/candy dish can makes a good gift and can be made in seasonal colors.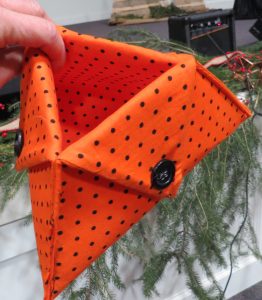 4. "Hand Beading" – Cheryl Kosarek will teach how to make beaded fringe and to cage cabochons. This workshop is limited to 10 people and has materials provided for $5 fee.
5. "Small Snips Quilt" – Theresa Pabon will guide us thru cutting tiny pieces of fabric to reproduce a simple 12x12 simplified picture/card.