All guild meetings and workshops are held by Zoom unless stated otherwise. Email Carolyn Boice (her email is in the Membership list) with any questions or to sign up for workshops.
Guild meetings run from 10am to approximately 11am. Presentations (if any) follow immediately and generally run from 11-ish to 12-ish. Lunch and programs follow from approximately 12:30 – 3:30pm. Any special meetings (Board, Quilt Show, etc) are from 9am – 10am. Any changes for a particular workshop or meeting will be noted in the calendar for that event.
There is a special interest group called Historical Miniatures. The meetings are via Zoom on Saturdays. Meetings are held at:
Grace Community Church
160 Seremma Ct.
Lake Katrine, NY 12449
Treats
All members are asked to bring a snack to the monthly meeting. The Hospitality schedule for the year is according to the first letter of your last name (as follows):
September: R,S,T October: U,V,W,X November: Y,C,D January: A,B,Z
Click on the date for more information:
Lisa Fagan: Daisy Pin Cushion, Wool Applique Workshop
Maximum 25 students
Daisy Pin Cushion
Wool Hand Applique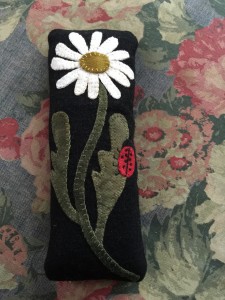 Members: $15, Non-members: $20
An optional kit for this project is available for $20.  The kit includes:  The pattern, all needed wool, homspun bakcing, one sheet of Soft Fuse, and a #24 Chenille needle.  The only thing necessary for class that is not included is thread since so many of us have a lot of that handy.  Lisa will have pearl cotton and bags of the ground walnut shells for stuffing the pincushion for sale at the class.
If no kit, will need to purchase the Required Pattern: Daisy Pincushion by Primitive Gatherings from Lisa for $6.00 on the day of the class.  PLEASE DO NOT COPY PATTERNS.
Download the supply list here:  Daisy Pincushion Supply List
Registration Form: Daisy Pin Cushion Wool Applique Class Registration Form
Please direct any pre-class questions to marie Girard who will get answers to your questions from Lisa.