Mini Bargello Sunflower -Part 1 - Jennifer Houlden
This workshop will follow the Guild Meeting.  This is a 2 part workshop.  Part 2 will be on March 25th.
Jennifer will spend the first part o the workshop working with the participants on color and fabric selection.  Then wee will move into creating this beautiful piece.
Mini Bargello Sunflower Class Description QBJ
Mini Bargello Flower Class Supply List 2-QBJ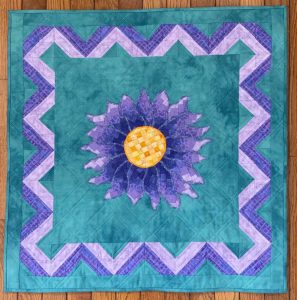 Workshop cost is $30 for members, $35 for non-members
At This time we will decide closer to each date if we are going to meet in-person or on Zoom.  The decision of the Board will be based on the ultimate safety of the members of the guild.
All Wiltwyck Quilters' Guild meetings are held at the Grace Community Church.  Coffee, tea and snacks begin at 9:30am.  The meeting begins at 10:00am.