Jackie Kunkel Geese in Flight Workshop
Geese in Flight paper pieced placemats.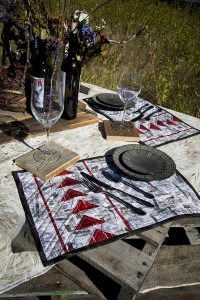 Sign-up for Jackie Kunkel workshops can be made by email or phone for those who want to get a head start on prepping for one or both classes in October.
​Call or email Linda Armour (she's in the membership booklet or in the Members Only area of the website).  If space is available in the workshop (only 6 left in Geese in Flight, only 10 left in Proud Mary), you will be signed up and then will need to send a check (made out to Wiltwyck Quilters Guild) to Linda.  ​
If you are purchasing the pattern and charm element pack for the Geese in Flight workshop with Jackie Kunkel in October, please note that the correct charm element pack is #2, NOT #1 as it states in the supply list. Jackie is going to correct that.