In-House Workshops
We have a wonderful array of workshops available from which to choose, as well as the opportunity to come work on our own unfinished projects. There is no charge for any of the classes but there may be class size and space limits and some pre-class preparation and information so please contact Te Pabon to register.
Linda Armour: Tube (Disappearing) Scarf
Pat Clark: Dimensional Flowers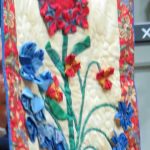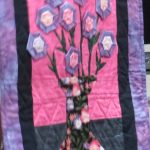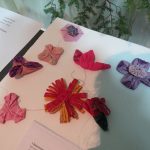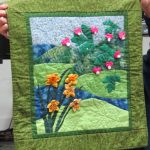 3-Dimensional Flowers (Pat Clark): You will be able to make several flowers at the workshop, but some easy pre-sewing will be needed since creating the starting piece is the only time consuming part.
Make each of the following 6 shapes. Sew pieces right sides together with a scant . " seam allowance leaving an opening for turning. Turn right side out, making good points/edges. Stitch opening closed and then press. Suggest florals, prints, solids – use a variety of your scraps for the flowers but when sewing use different fabrics for the pairs so you can distinguish front from back. The measurements below do not need to be exactly precise.
– One square (two pieces cut at 4" square)
– Two sets of circles (four pieces cut 3 . circles)
– One circle (two pieces cut at 4" circles)
– Two sets of equilateral triangles (four triangles cut with each side 5 1/4" using 60 degree angles)
Other supplies: Cut, but do not sew, 1 circle at 4" and from a different fabric another circle at 2".
Sewing needle, scissors, coordinating thread, a couple straight pins, pencil. Optional if you use them:  thimble, needle threader.
Dimensional Flowers pre class work and supply list - WQG
Cheryl Kosarek: Applique Using Non-Wovens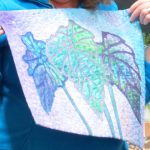 Fusible with Non-Woven Materials Sample
Non-wovens for Applique - Supply List
Materials needed per leaf : (Sample was made with three leaves.)
8 1/2" X 11" piece of Pellon 830 interfacing (JoAnns)
8 1/2" X 11" piece of Wonder Under fusible (JoAnns)
Full Fabric Marker ( I used a Marvy Uchida Deco Fabric Marker.
Can be found in aisle 56 in Michaels or aisle 18 in JoAnns)
13" X 9" piece of fabric for leaf background to coordinate with marker color.
(Any fabric will work but I suggest a batik or graphic fabric.)
If you choose to make a finished piece, you will also need a quilted sandwich, thread, and binding material.
Tools to bring:
Brown grocery bag to protect your work surface
Paper scissors
Small fabric scissors
Pencil
Pins
(optional) small rotary cutter and mat
For a pdf of the instructions click here:  Non-wovens for Applique Supply List
Te Pabon: Cathedral Windows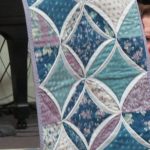 Cathedral Window Table Runner/Wall Hanging adapted from MSQC
Supplies:
You can use packaged squares if you choose.
32 5" squares of 1 solid color
32 5" squares of contrasting prints
¾ yard backing
31" x 22" thin batting
¼ yard for binding (probably won't get to binding in class)
Pins- straight
Safety pins or spray basting ( I will bring spray if you haven't tried it)
Thread to match the solid colored fabric
Sewing Machine with walking foot if you have one
And the usual quilting accoutrements
NOTE: Please iron the solid color squares in half on the diagonal prior to class.
Download pdf of these instructions Cathredral Window Supplies
Betty Verhoeven: Dimensional Candle Mat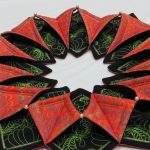 Supplies and preparation:
fabric needed:
back 5/8 y
front 5/8 y
applique 3/8 y in contrasting color
pellon 71f one sided fusible ultra firm . 17 by 22 inches paper backed fusible web[ 2 pieces.] [heat and bond lite]
cut fabric:
back fabric 12 pieces 7"squares
front 12 pieces 7" squares
stiffener 12 pieces 6 " squares
fusible web 2 pieces 11" by 17" rectangles
bring sewing machine and sewing notions
UFO Workshop