Dimensional Candle Mat/Wreath
Betty was not able to give this workshop in February as originally scheduled.  If you wish to sign up for this class please contact Betty directly.  Her information is in the membership book as well as in the Members Only section of the website.  Contact wiltwyckquilters@wiltwyckquilters.org if you need help getting her information.  At this time there is room for 2 more people.
If you signed up for the original class in February please RSVP to Betty as soon as possible so that she can get an accurate count of the attendees.
Betty Verhoeven: Dimensional Candle Mat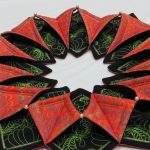 Supplies and preparation:
fabric needed:
back 5/8 yrd
front 5/8 yrd
applique 3/8 yrd in contrasting color
pellon 71f one sided fusible ultra firm . 17 by 22 inches paper backed fusible web[ 2 pieces.] [heat and bond lite]
cut fabric:
back fabric 12 pieces 7"squares
front 12 pieces 7" squares
stiffener 12 pieces 6 " squares
fusible web 2 pieces 11" by 17" rectangles
bring sewing machine and sewing notions