Upcoming Events Around The Area
2018
April
April 12
Q.U.I.L.T., Inc.
Delmar Reformed Church
386 Delaware Avenue
Delmar, NY
quiltinc.org
Karen Kay Buckley
(9:30 – 3:30) Circles Squared
Circles Squared-Machine Applique
See http://www.quiltinc.org/workshopinformation.htm#Apr for signup information and supply list
This is a really fun machine appliquéd wall quilt. You will learn to make sharp points, smooth curves, perfect circles, straight and even stems and there is a little reverse appliqué for some added fun. The technique I teach is a prepared edge method using an invisible stitch. Come join me for a fun day of machine appliqué.
CIRCLES SQUARED-Machine appliqué This is a really fun machine appliquéd wall quilt. You will learn to make sharp points, smooth curves, perfect circles, straight and even stems and there is a little reverse appliqué for some added fun. The technique I teach is a prepared edge method using an invisible stitch. Come join me for a fun day of machine appliqué. PATTERN PLUS FEE: $30.00-includes pattern, Templar, transfer papers, circles, brush, handouts, stabilizer and more.
SUPPLIES: -Rotary cutter, board and ruler -Scissors for paper and fabric * -Sewing machine in good working order. Bring your best machine for the best results. -Open embroidery foot for your machine -Empty bobbin -Pencil -Fine, thin pins * -Fabric markers to trace around templates on fabric * -Blue water soluble washout marker * -Painters Tape -Needle for hand sewing -60/8 microtex needles for machine appliqué * -80/12 machine needles -Thread-any color for a little basting -Thread-A very fine clear and smoked nylon, monofilament or polyester thread* -Fine grain piece of sand paper or a sand paper board -Iron and pressing board -Emery board *Items available for purchase in class at a discounted price
FABRICS Background- 14" x 20" Borders-20" x 8" 8-9 different fabrics for circles and border squares, each piece 10" x 10" 4 different green fabrics for leaves, each piece 4" x 11" Stems 14" x 4" piece
April 13 (12:30-3:30) Fiesta Mexico, Block 3
See http://www.quiltinc.org/workshopinformation.htm#Apr for signup info and supply list
While sewing on this 10″ square block you will learn to sew smooth curves, sharp points and perfect circles. I will make your hand applique experience fun, easy and enjoyable.
During my visits to Mexico I was influenced by the designs and colors of their handmade pottery and the flora. I designed a large quilt called "Fiesta Mexico" and this is one of the blocks from that quilt. For this 3 hour workshop I added a wonderful border to the 10" square center block. In addition to learning to appliqué smooth curves and sharp points you will also learn to create and appliqué perfect ¼" strips and perfect circles of differing sizes. I will make your hand appliqué fun, easy and enjoyable.
PATTERN PLUS FEE: $24.00 (Does not include fabric) It does include the full Fiesta Mexico pattern (12 patterns in all), 2 sheets of Templar, a brush, the border pattern, glue pen and 5 pages of border instructions.
SUPPLIES Package of Perfect Circles™ Scissors, both paper and fabric Small sharp pins to position appliqué Fabric markers Pencil Emery board Sandpaper-optional Tape Iron and pressing board
FABRIC White background fabric 12" x 12 4 green fat quarters 2 pink fat quarters 3 gold/orange fat quarters 5 blue shades, scraps
I will have the Perfect Circles available to purchase in class, at a discounted price, if you don't already have them.
I will be providing each student with one of my favorite needles and the use of my favorite appliqué threads.
---
April 13-15
10am – 4pm
Locust Grove Estate
2683 South Road (Rt 9)
Poughkeepsie, NY 12601
No Admission Charge
Skyllkill Chapter, Embroiders' Guild of America
presents its Biennial Needlework Show
Art of the Needle 2018
Admire over 200 pieces of needle art on display, enjoy live demonstrations each day, and shop the Boutique.
Demonstrations:
Friday, 10am-12pm: English Paper Piecing
Friday, 1pm-3pm: Japanese Embroidery
Saturday, 10am-12pm: Lace Knitting
Saturday, 1pm-3pm: Hand Applique
Sunday, 10am-12pm: Gold Work
Sunday, 1pm-3pm: Stumpwork
All three days: Counted Cross Stitch
---
April 22 & 23
2018 Webster Quilt Guild Show
EVENT: 2018 Webster Quilt Guild Quilt Show
"Sea of Quilts"
Come See Some of our Favorite Things
WHEN: Saturday, April 21, 2018 9 a.m. – 3:30 p.m.
Sunday, April 22, 2018 12 p.m. – 4 p.m.
WHERE: Holy Trinity Church
1460 Ridge Road
Webster, NY 14580
WHAT: We will feature approximately 250 quilts made by Guild members. Special displays include Quilt Pink (for breast cancer patients), Wounded Warriors quilts, Baby quilts, 2020 Quilt Project (celebrating the upcoming 100th anniversary of women's right to vote), and the Peg Oppenheimer Memorial Quilt Display (past Guild president). Additionally vendors will be available and we'll have a boutique table and book sale.
The raffle quilt created by our members is the Judy Neimeyer design, "Wild Ocean Rose," a 93" x 93" quilt appraised at $3,700. Tickets are $1.00 each or 6 tickets for $5.00; they can be purchased in advance from any guild member and at the show.
CONTACT:
Webster Quilt Guild
quiltshow@websterquiltguild.com
http://websterquiltguild.com/quiltshow.shtml
---
Cheryl Potter at CPQuilts is offering the following:
Come relax in my studio and share quilting time with others while making another quilt project from your stash!
Dates for the class will be Fridays
March 23, April 13, May 4 and a make up date May 18 for anyone who cannot make one of the first three.
September 14, October 5, October 26, and a make up date November 16.
Class will be 10-1pm and 6-9pm Cost of the class is $105.
A supply list and the first month cutting will be sent upon payment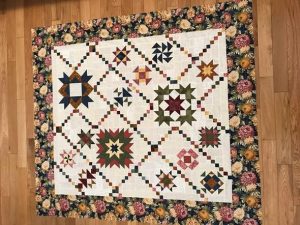 Tuesday April 3 10-1pm or 6-9pm $15.
Have a project you are working on, need help with or want to start. This class is for you. It's your question and answer time!
Send your payment made out to CPQUILTS along with the time you want to sign up for to:
Cheryl Potter
172 Arnold Dr.
Kingston, NY 12401
May
May 5
Join East Side Quilters for a bus trip to the XXXIX QUILT SHOW of the NORTHERN STAR QUILT GUILD, in Danbury, CT, on Saturday, May 5th, 2018 . . Many of their members have had their work juried into national and internationally known shows. Check out their past shows at: www.northernstarquilters.com
The exhibition this year includes the Cherrywood Van Gogh Challenge, (www.cherrywoodfabrics.bigcartel.com/van-gogh) as well as the judged show, special displays by FiberArt NorthEast, the NSQG Art Quilt Group and Landscape Quilt Group. The site has a stair-free exhibit space and elevator to reach the lecture room. The Quilt Show expects 33 Vendors
This year's free lecture will be presented by Virginia Findlay Wolfe (https://vfwquilts.com)
She authored Double Wedding Rings,- Traditions Made Modern, and * 15 Minutes of Play Book. Check out her website to see her many beautiful creations.
June
June 2
Fabric, Thread & Skein Enthusiasts De-Stash Bonanza
Saturday, June 2, 2018
10AM-4PM
Delhi American Legion
Page Avenue, Delhi NY 13753