Upcoming Events Around The Area
Traveling? Check out QuiltingPathways
Your guide to interesting quilt shops, quilt shows, quilting ideas, and scenic drives and byways for quilters and their spouses who enjoy traveling and camping.
2018
September
September 13-16, 2018
Pennsylvania National Quilt Extravaganza
Greater Philadelphia Expo Center
Oaks, PA
https://www.quiltfest.com/upcoming-shows-and-events/pennsylvania-national-quilt-extravaganza/
September 15, 2018
Schoharie County Quilt Barn Trail
Drive the Trail! 110 blocks on barns & buildings.
More to come.
Downloadable Map: www.quiltbarntrail.com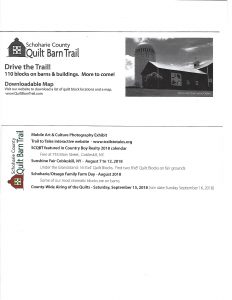 September 15, 2018
The Hudson Valley Modern Quilt Guild Presents
Melanie Tuazon: Trill Quilt Workshop
Saturday 10-5
Location: Poughkeepsie Senior Center
14 Abe's Way
Poughkeepsie, NY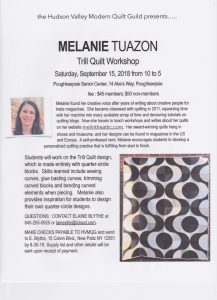 September 15-16, 2018
Bennington QuiltFest
Saturday 9-5
Sunday 9-4
Location: Mount Anthony Union Middle School
747 East Road
Bennington, VT
http://www.benningtonquiltfest.com
September 22-23, 2018
Catskill Mountain Quilters Hall of Fame presents
A Festival of Quilts
Saturday and Sunday 10-4
Location: Roxbury Arts Center
5025 Vega Mountain Road
Roxbury, NY 12474
September 25 – October 1, 2018
Schoharie Library
"Continue The Threads"
Quilt Exhibit
Featuring quilts and fiber arts by adult students of Master Quilter Arlene Vrooman
All are invited to an afternoon tea and reception Saturday, September 29, from 1-3 at the library.
September 29 – 30, 2018
Autumn Inspirations Quilt Show
Presented by Q.U.I.L.T. Schenectady
Location: Proctors GE Theater
432 State Street
Schenectady, NY
Saturday 10 – 5
Sunday 10 – 4
Admission: $7
Vendors Boutique Raffle Quilt
October
October 5-7, 2018
Quilts in the Mill
Presented by Courthouse Quilters Guild
October 5-7, 2018, 10 – 5 daily
$10 entry fee
Prallsville Mills
33 Risler Rd/Rt 29
New Jersey
www.courthousequilters.org
October 13-14, 2018
7th Annual Wilmington Quilt & Craft Show
Historic Memorial Hall
Downtown
Wilmington, Vermont
In Memory of founder: Suzanne A. Wells Wurzberger
Saturday, 10 – 5
Sunday, 10 – 4
Admission by donation please
Info: Call Norton House Quilting (802) 464-7213
info@nortonhousequilting.com
Co-sponsor: Loose Knit Group
Lots of quilts
Unique Craft Vendors
Quilts of Valor
Demonstrations
Raffles and More
Plenty of free parking
www.facebook.com/wilmingtonquiltandcraftshow
November
November 16-17, 2018
A Two Day Introduction to Quilt Judging Seminar
Presented by Sandra Dorbecker, NACQJ Judge
Friday November 16, 2018 ~ 9 AM to 6 PM
Saturday November 17, 2018 ~ 9 AM to 6 PM
Sandra Dorbecker is one of only twelve people in the US who are Qualified as Certified Instructors by the National Association of Certified Quilt Judges (NACQJ). The Dutchess Heritage Quilt Show Committee, with the support of the Dutchess Community College Foundation, is pleased to sponsor an Introduction to Quilt Judging Two Day Seminar lead by Sandra. The seminar covers all aspects of quilt judging. It is open to anyone who is interested in developing a better understanding of the judging process. This is not a judging certification program, but will prove of benefit to anyone who enters judged quilt shows or is interested in pursuing certification as a quilt judge or appraiser.
This two day event will be held on the campus of Dutchess Community College, Bowne Hall Room 105, Poughkeepsie, NY. Participation is limited to 12 students. Cost for the two days is $210. The fee includes a student kit. A $100 deposit is required to hold your seat, with the balance due by September 20, 2018.
Location: Bowne Hall Room 105 at Dutchess Community College, 53 Pendell Road Poughkeepsie, NY. Enter the campus from Pendell Road, via Mascot Lane. Handicapped parking is available adjacent to the building. To access handicapped parking, turn right in front of the childcare building, pull up to the gate and press the button to speak to security, parking is behind Bowne Hall, use the ramp to access the building.
Questions? Karen Abramson (Karen.abramson@att.net) or Mobile: (845) 559-7428.
2019
May
May 4 – 5, 2019
Wing Falls Quilters Guild
"Dreaming in Color"
Queensbury Hotel
Maple & Ridge Streets
Glens Falls, NY