There is still room to get into the April Workshop.  Register Now for best availability.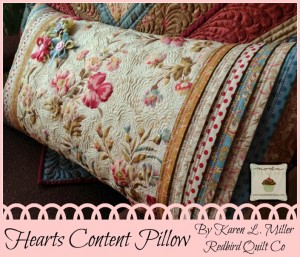 On Friday, April 15, Karen will conduct a class on creating a sweet home décor pillow with some simple piecing, a little quilting, and some (optional) wool embellishments. What's awesome is that we can make two pillows with just one jelly roll and some added yardage.  Find all the information on our website:  http://wiltwyckquilters.org/guild-events/

As a member of the Wiltwyck Quilters' Guild you have first dibs on a place in this and any other workshop offered by the guild.  As of April 1st the registration will open up to non-members.  Get your place now and register before the 1st.
The class will be a full day workshop at the Grace Church, from 9:30 – 4:00. There will be a $20 workshop fee for members, $25 for non-members.
Quilters Dream and Door Prizes
Karen Miller loves Dream Wool and suggests it for use in our April Pillow Top project. Thanks to the efforts of Marie G. Quilters Dream will be providing 4  throw-size batting packs which can be cut up to provide enough of the 16" x 30" piece of batting needed for the project for everyone taking the class.
In addition, they are  sending sample cards for all the Guild members and some door prizes!  How wonderful is that?
All information can be found on the Calendar:  http://wiltwyckquilters.org/guild-events/
Supply List:  Hearts Content Pillow Top Supply List
Registration Form:  Workshop Registration – Hearts Content Pillow
---
Our May Workshop:  Kerry Burke from Simple Bird Applique has been quilting for more than 30 years and loves to share her love of hand applique through her blog and on-line tutorials). Kerry resides in Canada where she has a quilt store, a yarn store, and an on-line business that specializes in hard to find applique tools, patterns and notions.  Please look at Kerry's spectacular work: www.simplebirdapplique.com
We are delighted to host Kerry Burke at our Guild Meeting on May 21, 2016 where she will conduct a lecture and trunk show in the morning.
In the afternoon, at the Grace Church, Kerry will teach the following workshop:
The Glorious Eagle 1/2 Day Workshop: $20 Members, $25 Non-Members
Eagles have nested in nearly every major Baltimore album quilt made during the heyday of album quilts (1840-1850).  In this class, students will start their own 15-inch block.  Techniques include the basics of Prepared Edge Applique, marking, layering, off-unit applique, perfect circles, and making pointy-points, smooth curves, and folded roses. Freezer Paper templates will be provided.  Kits (optional) are available for $30.00.  Patterns (necessary) are $9.00
Supply Lists to be available soon.
Check the calendar for updates and details:  Kerry Burke Eagle Workshop
To Register for either of these workshops:  Workshop Registration – Kerry Burke Workshops
On Sunday May 22, 2016, at the Town of Ulster Senior Center, Kerry will teach the following class.
The Braided Flower Basket.  Full Day Workshop: $35 Members, $45 Non-Members
Is there anything more beautiful than a basket filled with flowers?  In this workshop, you will learn everything needed to make this lovely 15-inch block: prepared-edge applique, layering, marking, off-unit applique, perfect circles, folded flowers and leaves, and bias stems for the braided basket.
Kits (optional) are available for $40.00.  Patterns (necessary) are $9.00.
Supply lists will be coming out soon.
To see all the details and any updates check the calendar:  Kerry Burke Full Day Workshop
To Register for either of these workshops:  Workshop Registration – Kerry Burke Workshops
Download a pdf of these workshops:  Kerry Burke Workshops – May 2016