February 20, 2016: Wool Appliqué Class: Lisa Fagan 
Maximum 25 students
Daisy Pin Cushion Wool Hand Applique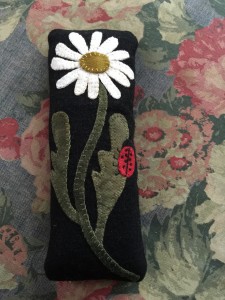 Members: $15, Non-members: $20
Kit Available for $20 (optional): includes pattern, wool, sheet of fusible interfacing, needles and backing fabric. The only thing that it does not include is thread since so many of us have a lot of that handy. Lisa will have some with her just in case someone does not.
If no kit, will need to purchase the pattern from Lisa for $6.00. Supply list to follow.
Daisy Pincushion Supply List 
Required Pattern: Daisy Pincushion by Primitive Gatherings.
$6.00 ~ available from Lisa on day of class. PLEASE DO NOT COPY PATTERNS.
Wool Needed for Class: 
1. 4" x 9-1/2" Black for background
2. 3-1/2" Square white or off white for daisy
3. 2" x 8" green for leaves and stems
4. 1" square gold for center of daisy
5. 1" square red for ladybug
6. 1" square black for ladybug
Other Supplies Needed for Class: 
7. Fusible web: Soft Fuse is Lisa's first choice, Steam-a-Seam Lite is her second choice
8. Pearl cotton or embroidery floss in colors that either match or contrast
9. Chenille #24 needle
10. Scissors
11. Pencil or ultra fine sharpie for tracing
Additional supplies: not needed for class: 
12. 4" x 9-1/2" homespun for backing
13. Two – 4" x 9-1/2" Kona solid for lining
14. 1 bag of ground walnut shells, plain or lavender
Lisa Fagan will have pearl cotton and bags of the ground walnut shells for stuffing the pincushion available for sale at the class.
Please direct any pre-class questions to Marie Girard who will get answers to your questions from Lisa Fagan, Log Cabin Fabrics.
Supply List to download:  Daisy Pincushion Supply List
Registration Form:  Daisy Pin Cushion Wool Applique Class Registration Form