Bonnie Turner
from
Log Cabin Fabrics
will join us in November for a morning lecture and trunk show where she will share her treasury of projects, highlighting her stunning crazy quilt embroidery work. In the afternoon class we will learn some basic embroidery stitches, silk ribbon embroidery and other embellishing techniques to create a mock crazy quilt needle case. It is called "mock" crazy quilting because there is no piecing of the foundation of the project so we can move on quickly to the creation of them embroidery stitches.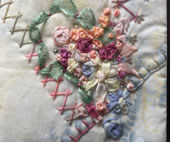 There is nothing like hand work to relax and enjoy the creative process.  This portable project is a perfect take-along for traveling or those waiting room times.  There is no advance prep work for the class and no machine is needed.  These darling needle cases make wonderful holiday gifts for your favorite quilting buddies.
HALF-DAY WORKSHOP: "Crazy Quilt Embroidery Stitched Needle Case"
Saturday, November 21, 2015 from 12:30 – 3:30 pm at Grace Church.  Limit 15 students
Cost: $20 for Wiltwyck members ($25 for non-members)
Crazy Quilt Embroidery Stitched Needle Case Supplies:
Optional kit for the needle case will be available from Bonnie at the class for $20.  Please indicate on the registration form if you wish to purchase a kit so Bonnie can have an adequate number available.
Supplies if you do not wish to purchase the kit:
Basic sewing supplies
Two 4 1/2″ x 9 1/2″ pieces of coordinating fabric (Bonnie likes batiks)
Embroidery thread to match
Chenille needles #22 or #24
Marking pencil or pen
Small ruler – 1″ x 6″
Silk ribbon
Charms or buttons of your choice
Bonnie will have items relative to the project available for sale.
Remember to pack a light lunch to nibble between the lecture and the class!